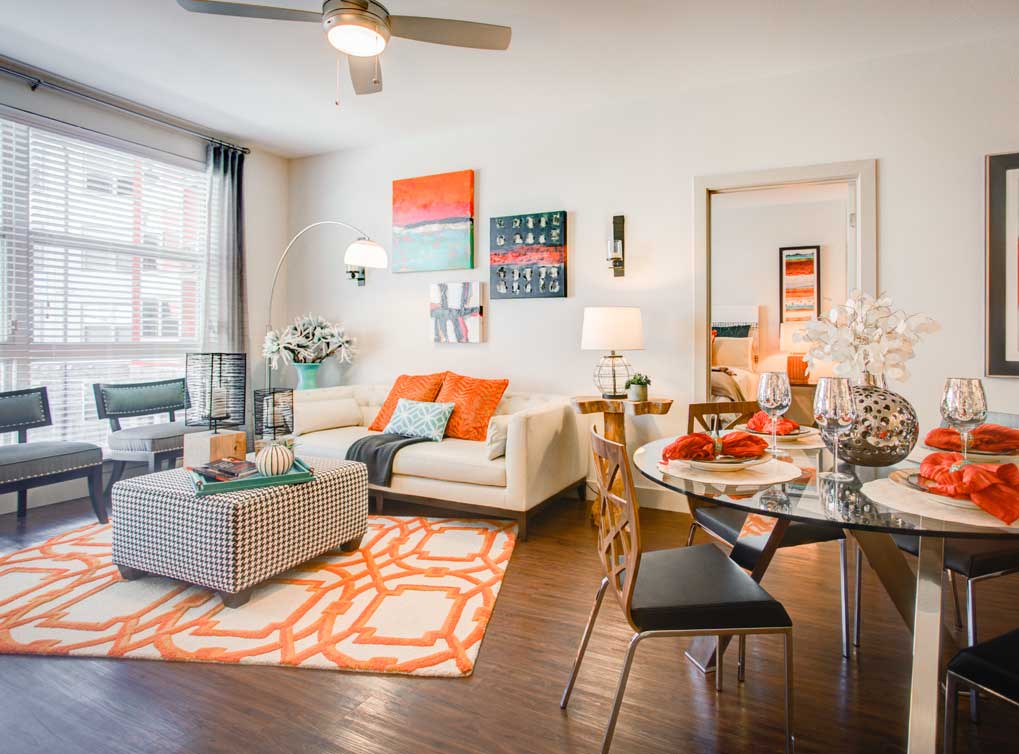 Welcome back to the second half of our two-part article on how to transform your apartment building or investment property into furnished apartments and corporate housing units. Last time we talked a lot about updating your units with the help of an interior designer and a vision of the kind of service you'd like to provide. Let's pick up where we left off at picking furniture.
6) Furnish Comfortably
While renting to residents, people tend to come with their own furniture but no one brings a bed and armoire on a business trip. You'll need a full set of comfortable, welcoming, and stylish furniture, appliances, and equipment for each unit. Feel free to make all the furnished apartments uniform in their design or personalize each room with a color and theme.
7) Stock the Kitchen and Bathrooms
Just as your corporate housing residents won't be coming with furniture, they also won't have a suitcase full of pots and pans, can openers, cooking utensils, toilet paper, cleaning supplies, and so on. While your building may or may not offer meals, laundry, and cleaning services, many people prefer corporate housing so they can take care of themselves and their business in privacy. Provide everything a resident might need to cook, clean, and live comfortably for up to several months.
8) Supply with Linens
The number of bedrooms, bathrooms, and storage space in each furnished apartment will determine how much you should and can stock them up with linens. Make sure there's at least one complete spare change of sheets and blankets for each bed and at least four fluffy towels per bathroom. you'll be doing a lot of laundry between residents so prepare for this one hospitality industry challenge.
9) Arrange for Regular Cleaning
Some residents will prefer to do their own cleaning while others will really appreciate the ability to have their temporary home cleaned while they're at work. However, either way, your residents feel about it, you will need regular cleaning between guests at the very least. Make sure you have a service ready to come both regularly and can be on-call when you need them.
10) Provide Concierge Services
Finally, be prepared to provide a variety of hospitality style concierge services. You might be asked to order food or travel and living supplies for your guests, arrange for events, call for a car, or provide laundry services. Simply having someone capable at the front desk with a computer and phone can make a huge difference in how well taken care of your guests feel.
When your multi-family building has been completely transformed to furnished apartments for corporate housing, it's time to start building your reputation among businesses and travel agencies and make your name with superbly maintained properties and luxurious temporary housing for professionals away from home.
For expertise with furnished apartments in Boulder, Denver, Broomfield, Fort Collins, Colorado Springs and across Colorado contact Housing Helpers of Colorado at book@housinghelpers.com 303-545-6000